September is coming to an end which means our latest SSB Ultimate and Rivals of Aether local Power Rankings (PR) quarter is over!
There are a couple of ways to calculate the PR. The first is a small group or panel of people who collectively look at stats and performances at majors, minors, and locals to decide where competitors are placed on the PR. The second involves using a few programs or websites that draw data from the brackets and award points to players for wins and subtract points for losses. For instance, let's say you are the 9th seed and you beat the 15th seed on a regular basis. You receive little to no points simply because your seeding suggests that you are the better player and shouldn't be rewarded for constantly winning over someone who is lower than you. If you happen to play and beat the 4th seed you will earn more points. The system rewards you for good performances, but if you never beat anyone seeded higher than you, you will likely stay around the same seeding.
We utilize the second option because it's a bit easier to keep up with and since we are a smaller local scene the PR is just to reward players for their consistency or breakout performances. The only requirement is that you have to compete in at least 4 tournaments throughout the 3 months of each quarter to be on the official rankings by the end.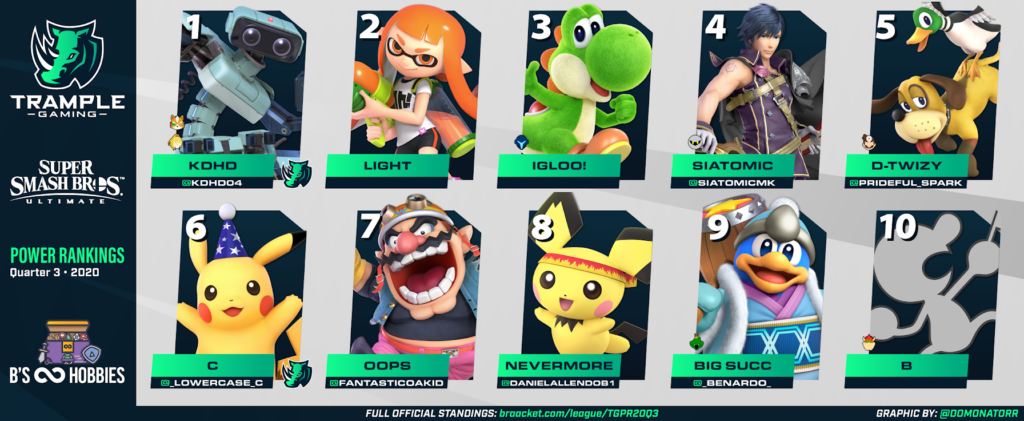 These placements can be extremely rewarding to some players and a let down to others. Our local scene is super close knit, so we are so proud of those who have improved immensely, and for those who didn't do quite as well, the new quarter starts soon and brings a fresh start along with it. There is absolutely nothing more motivating to me than looking at old placements and knowing that I can improve moving on!
I also want to take a second to recognize some competitors for their breakout performances, dominant stats, and consistency!
SSB Ultimate
Siatomic won his very first local in Q3 and a total of 3 tournament wins total this PR. He has really stepped his game up and had some stunning performances!
D-Twizy also clinched his first tournament victory. He has shown us time and time again what hard work and practice will prove, becoming extremely consistent to see him in the Top 3-4 placement each time he attends despite being at college now!
Despite being farther away than most competitors, Oops tries his hardest to make it out when he can and gives each and every player a run for their money. He has hardly let his placements drop since making the switch from a solo DK main to primarily using Wario and Shulk.
Rivals of Aether
Our Rivals PR is preliminary at the moment, but we have a few individuals who are really into the game and love competing and others just enjoy playing it for fun. We've had some stellar matches already, so I would like to give it some time to grow since it's not nearly as popular as the Smash Bros. community.